What is Off-Page SEO?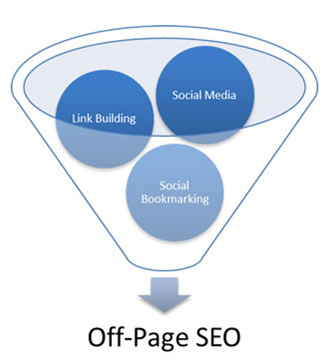 Off page SEO is a type of technique that many people used to increase the position of a website in the search engine page. Off page SEO Services is usually associated with link building but there is actually more to it than just normal link building.
Overall, off page SEO has to do with the various promotion methods on Social Bookmarking Sites, Article Submission Sites – for the purpose of having a higher ranking in the search results.
Search engine optimization is the term used to define a set of processes that helps in optimizing website for search engines. Basically, SEO helps to get high quality visitors and also assist in increasing the overall brand awareness.
Can you share with me the details of Off-Page SEO?
Certainly! Off-Page SEO are activities that are outside the boundaries of your webpage. Some proven methods for off-page SEO will be link building, Social Media Marketing and Social Bookmarking. Off-page SEO is very essential because it gives the search engines such as Google, Yahoo and Bing a very good indication on how the world recognizes your particular website.
When a website is useful, they are more likely to be referenced in other websites and would also have mentions on the different platforms of social media.
So what are the benefits of doing so?
The benefits of off-page SEO is that it will increase the ranking of your website. The rank of the website will be high in SERPs which means that they will probably receive more traffic.
Off-page SEO also helps in increasing the page rank. For page rank, Google uses number between 0 to 10 to indicate the importance of a website in the eyes of Google. With off-page SEO campaign in place, when the rankings get higher, it means that there is more exposure of the website. Thus, the websites will gradually get more links, visits and social media mentions.
How many kinds of Off-Page SEO are there?
Out of so many different off page SEO method, link building is the most popular method. Link building means to build and develop external links to your website naturally. By doing this, you want to gather as many 'votes' as possible so that you can bypass your competitors and rank higher. Over the years, web masters have invented a number of ways to increase link count so that they will rank higher. We'll share with you some of our findings below:
Firstly, it is blog directories which are similar to Yellow Pages but every entry needs to link back to your website. Secondly, it will be forum signatures whereby people commented on the forums to get link back to their website as they will include the links in their signature. Thirdly, it is something similar to forum signature whereby when you comment on other website or blog in order to get a link back.
Some other methods includes article directory which allows you to publish your articles and you could get a link back to your website. There are also article directory that only accept unique content while there are also other directories that accepts generally anything under the sun. Do take note that for some directories, forums or even Social Bookmarking sites, users participates for a fee.
Another popular ways would be using link exchange schemes. It means that you can contact with other web masters and exchange links. However, all these ways that is used to increase link count do not work today and you should not even try them because you might even get a penalty. Read more about the 10 more expensive SEO mistakes made by corporations.
Social media is also part of off-site SEO and it is similar to link building. With proper configuration of social media profiles, it actually plays a part in boosting your SEO. As for social bookmarking, it is not that popular as how it used to be in the past (depending on which platform). However, it is still a decent way to get traffic to your website.
If you want your Singapore SEO services campaigns to be successful, you need both off-page SEO and on-page SEO as they are equally important. Of course, there is an easy way out on doing link building, but if you get links from places that are hard to get, there will be more value to it. However, to make SEO works perfectly, it is best to forget all about link building. Put all the required effort in making a good website and promote it with the right ways, everything else will follow gradually.
To find out more about our SEO work, do call us at 6362 0123 or request for a meeting with our SEO consultants here!
Office Address
SEO Services Singapore
246 Macpherson Road
#02-01 Betime Building,
Singapore 348578
Tel: 6362 0123
Fax: 6362 0041