What is On-Page SEO?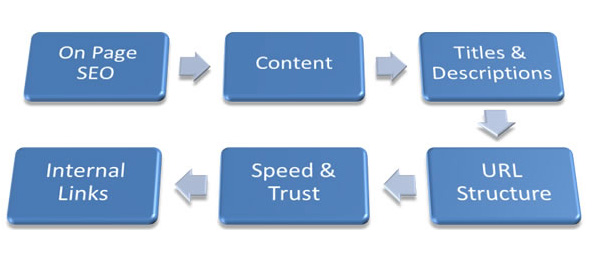 In order to achieve better organic rankings on Google, Yahoo or Bing + to run a successful Internet Marketing campaign, SEO Services Singapore realizes that on-page SEO is one of the most important process that needs to be handled well.
Most of our customers come to us with a website that is not ranking well on the search engine results page (SERPS). Well, we are SEO Services Singapore glad to be of as much help as we can. We all know that every successful digital marketing campaign all begins with a website. With just a normal HTML website, it is not good enough because the search engines such as Google, Yahoo or Bing may not be able to crawl and index the page well. Thus, it is of paramount importance to have a website that is properly optimized for both robots (search engine spiders) as well as human beings (your customers!).
To give you a clearer view, Search Engine Optimization is a term that enables your website to be able to climb up higher in the search engine results page. SEO itself is broadly classify into both On-Page SEO and Off-Page SEO. In terms of the actual effort from the SEO services vendor, the On-Page SEO work would constitute about 20-30% of the work while the balance 70-80% of the work is Off-Page SEO Link Building work. However, it is wrong to say that On-Page SEO is unimportant because it is the building block of your greater SEO campaign. Can you build a tall building without a proper base? Probably not. The same is said for SEO. You need a good base to work on and grow your SEO campaign.
So how exactly does On-Page SEO work and what do I need to do?
In general, Search Engine Spiders are generally computer programs that goes around the World Wide Web looking for content to 'crawl' and 'index'. What they do is that the 'spiders' will make an exact copy of your website and bring it back to the search engine company such as Google and Yahoo. These computer programs can understand their own IT language and if you want them to understand your website and to understand your business, you need to be able to talk to them in their own language! Thus, you need to ensure that you fulfil all the requirements of a successful On-Page SEO campaign such as Meta Titles, Meta Descriptions, 301 Redirects, 404s Pages, Thank You Pages, Alt Text, H1/H2 Text, XML Sitemap, Robots.txt and etc. The list goes on. There are more than 200 over factors that affect the algorithm of your ranking on Google/Yahoo.
Besides the technical aspects, how do I please my customers who are on my website?
With a good On-Page SEO structure, you will be able to please your customer better. For example, your customers would find the loading speed of your website better, they would be able to find and access information more easily, and the various landing pages would give your clients the exact information they need, thus ensuring that they stay longer on your site.
With the above, you can be sure that you will have a happy user on your site! When you have a group of happy customers, these customers will refer their family and friends to you, post your link on Social Networking/Bookmarking sites, come back more often, stick around longer and etc. All these action will affect your SEO ranking too! Shocked to hear that? Read more below..
Proliferation of Google Places/Maps
In recent months, we've seen more search engine results page that carries a Google Places/Map listing. Thus, it is also important for this to be communicated over to Google. You need to let the search engine know of your physical presence, your tel number and your website URL. All these can be achieved by your Digital Marketing company, requesting for a Google Places pin to be mailed to your premise. With this pin verified, you will have a better chance of appearing on page 1 of Google.
I'm excited over what I'm reading! Tell me more about the technical portion!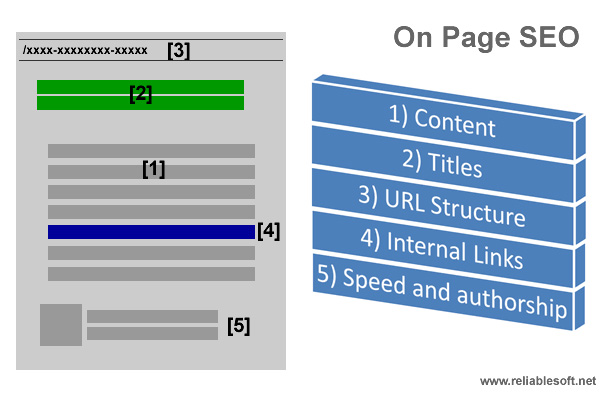 There are many techniques for on-page SEO and below are 5 on page SEO techniques that are absolutely crucial for your website today.
1) Unique content
With a good content, you encourage users to read more and stay longer on your site. Google will also be pleased with what you are offering to the users of Google and thus, Google will come back more frequently.
These content that you placed on your website should be original content. This means it shouldn't be copied from your competitors or from some other websites. We will suggest for you not to even rephrase or paraphrase it. In fact, it will be good to employ a good SEO copywriter to assist you in this work.
These content should also be published on your website first. If you publish the site on other URLs before putting it on your main site, it does not help as much as if it is originally crawled and indexed.
When you upload content, the content should come along with videos &/or images. There should be some caption or description of what you are uploading to your site. Users should also take note that the content they are uploading should add value to the website. Do not upload content just for the sake of uploading. Your user will know and Googlebot will know it too.
2) Proper documentation via Page Titles, Description & Formatting
When search engines read, they do not just read the content; they also check page titles, description of the pages and the major headings (H1/H2/H3) and images. The page title should be unique so that the search engines can easily understand. For formatting, make sure the page is properly formatted and must be readable. For images, it will be best to use original images and optimized images. The smaller the size of the images, it will be better as it will improve overall loading time.
Also, take care when naming your images. Try to name them as descriptive as possible as that will help the search engine to recognize the images.
3) URL Structure
Having a good URL means that it does not include characters like '?' and nonsensical numbers (php?id=1315918). A good URL should also be less than 255 characters and they should use hyphens to separate the different phrases. By grouping your pages into categories, it actually assists the search engines and users to find what they want in a faster way.
A bread crumb also plays an important part in letting the users navigate the website in a structured way since they can know where they are and how deep below the home page they are at.
4) Internal Linking
Internal Linking is a way to let the search engines know about the other pages that exists on the same URLs, or on other pages of other URLs. The search engine spiders will read those pages and they can also discover pages that they have not indexed before.
For internal linking, you should add internal links that is useful for your read and also remember not to over use the internal links. Depending on how long your content is, we generally recommend internal links of between 3-7.
5) Speed & Authorship
Google had added speed into one of the ranking factors because they had invested a large amount of money to make the web work faster. Hence, they decided to push the owners of the website to take speed into account. If your website is light, have a mobile version or generally is a monster when it comes to page load, Google loves you!
Google also takes Authorship into consideration when they rank your site. If you frequently blog, and you have a huge following off some blog networks, you tend to be ranked more favourably as compared to your competitor sites.
Summary
Both on-page SEO and off-page SEO plays an essential role in making your Singapore SEO services campaigns successful. Some customers might find it a hassle and outsource the SEO work to an SEO company of their choice. We SEO Services Singapore do have a blog article on that here.
In general, we welcome all to call 6362 0123 or contact us for a no-obligation discussion today!
Office Address
SEO Services Singapore
246 Macpherson Road
#02-01 Betime Building,
Singapore 348578
Tel: 6362 0123
Fax: 6362 0041